Your Guide to Massage Gun Heads for Muscle Recovery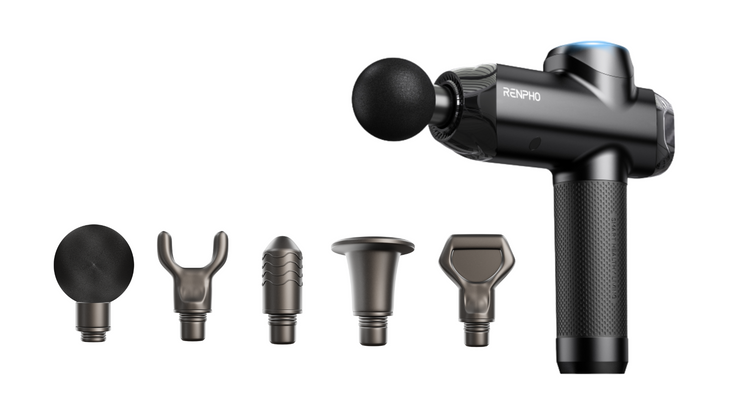 Stay tuned to our latest news
Article last updated June 7, 2023
Health and fitness fanatics know this for sure: DOMS or Delayed Onset Muscle soreness is common after any intense or new workout. You might even consider it a good thing at times, thinking that the pain is a hallmark of an effective exercise–as long as it's within the normal range (maximum of 3 on a scale of 10, says this expert).
If you're seeking pain relief after your workout, you may want to consider using a massage gun for a comforting deep-tissue massage. Let's dive into it and learn more about the different purposes of the RENPHO Massage Guns' head attachments!
What Are Deep Tissue Massage Guns Used For?
Massage gun tech has grown popular over the years, especially as more and more celebrities and renowned professional athletes are using them as percussive therapy. These fitness recovery devices are rechargeable massagers that you can conveniently and easily take with you on your trip to the gym or when you travel.
Designed to reduce post-workout body stiffness and muscle pain, these powerful massage guns work to loosen up muscle tension and ease your sore muscles based on your comfort and unique needs. With proper use, it can also help ease muscle fatigue and improve your blood circulation.
A myriad of portable and high-quality handheld massagers are available on the market today, and among the top-rated options are RENPHO's best-selling massage guns. 
The beauty of buying a massage gun is that it comes with interchangeable massage gun attachments that target different muscle groups. The variations of massage gun attachments—which are also referred to as massage heads—are designed to personalize your massage experience.
The massage heads are shaped differently to effectively work by applying the right amount of pressure to rejuvenate your body's pressure points to soothe tissue as well as target tight muscles and sore muscles.
A wide variety of massage gun attachments is now being offered in the US. For high-impact massage, it's recommended that you choose the best massage heads that fit your needs.
Massage Heads and Their Purposes
You use different attachment heads based on what muscle groups you wish to target. They're each designed with a distinctive purpose. Not only to be more effective but also to ensure your maximum comfort and safety while using them.
Here we've listed some interchangeable massage heads to guide you on how each of them should be used:
Ball Head
Made of durable EVA foam, this spherical massage head reaches deep into your muscles to help ease soreness. Its round shape makes it more flexible to use anywhere in your body, especially in your large muscle groups such as quads and glutes.
The ball attachment is ideal for overall muscle recovery, as it provides a broad surface area and mimics the hands of a skilled masseuse, delivering a soothing kneading sensation.
U-Shaped Head
This plastic, dual-pronged head is also known as the fork head. The attachment provides relief in hard-to-target areas, including the shoulders, spine, neck, calves and Achilles tendon.
The plastic Bullet Head is named as such because of its pointed shape. This is the best fit if you feel tightness and discomfort in your joints, deep tissues, trigger points or small muscle areas such as the feet and wrist.
Bullet Head 
The plastic Bullet Head is named as such because of its pointed shape. This is the best fit if you feel tightness and discomfort in your joints, deep tissues, trigger points or small muscle areas such as the feet and wrist.
Flat Head
The silicone-made, multipurpose Flat Head is for full-body general usage. It helps reduce stiffness and post-exercise pain for total body muscle relaxation. This includes muscle groups closer to bone joints.
Shovel-Shaped Head 
The Shovel-Shaped Head is for your abdominal muscles and lower back. This attachment provides you with much-needed stimulation to help release stiff muscles post-workout for maximum relief.
Choosing the Right Renpho Massage Gun Head
Now that we have explored the different RENPHO interchangeable heads, you may be wondering which one is best suited for you. The choice ultimately depends on your specific needs and preferences. Consider the following factors when selecting a Renpho massage gun head:
Targeted Areas: Identify the areas of your body that require the most attention. If you experience muscle tightness or soreness in larger muscle groups, such as the back or legs, the ball head attachment may be the most suitable choice. For more precise targeting of trigger points, the bullet head is ideal.
Massage Intensity: Determine the level of intensity you desire in a massage. If you prefer a softer touch on the sensitive muscles, the flat head or forkhead attachments may be more suitable. However, if you require deeper muscle penetration and intense pressure, the bullet head or shovel head attachments would be better options.
Specific Conditions: Consider any specific conditions or injuries you may have. If you are recovering from an injury or have a sensitive area, such as a recent surgery site, it's important to choose a massage gun head that can provide the necessary relief without causing discomfort. Consulting with a healthcare professional may be beneficial in such cases.
Experimentation: Don't be afraid to experiment with different massage head attachments and speed levels to find the one that works best for you. RENPHO offers a variety of attachments and it's worth exploring each one to discover your personal preference.
Remember, when using a RENPHO massage gun, start with the lowest setting and gradually increase it based on your comfort level.  Always consult with a qualified healthcare provider regarding any medical concerns before using a massage gun.
Conclusion
Whether you seek the precision of the Bullet Head, the soothing strokes of the Flat Head, or the precision-meets-flexibility of the Fork Head, RENPHO has you covered. So, go forth and embark on a path of relaxation and rejuvenation, armed with your trusty RENPHO massage gun and the perfect attachment head for you. Happy massaging!
---