What is RENPHO Athlete Mode? Should You Turn It On?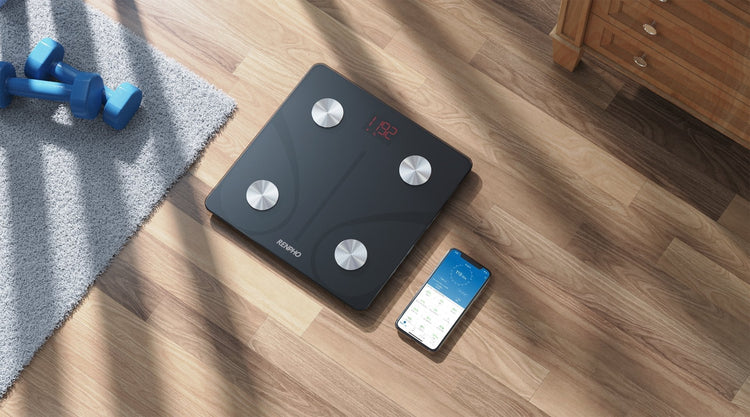 Stay tuned to our latest news
Article last updated June 27, 2023
Connecting your RENPHO Smart Scale to the RENPHO Health App is one of the best ways to get the most out of your digital device. The app has cool features to make tracking your health super easy and fun. 
With the RENPHO Health App, you can personalize your journey and keep track of your progress, analyze trends, and monitor your  body composition, including weight, bone mass, and skeletal muscle. Plus, you can create unlimited user profiles, so your loved ones can use the device and track their own progress as well. 
While exploring the app, you may have come across a feature called Athlete Mode. Here we will tackle briefly what this feature is all about. This blog will also serve as your guide on how to turn the mode on or off. 
What is the Definition of an Athlete?
For the purposes of Athlete Mode for the RENPHO Bluetooth Smart Scales, an athlete is defined as someone who consistently works out for approximately 3 times a week for 2 hours. This may also apply to people who used to work out frequently for a long period of time but less now. This mode is also suitable for people involved in endurance sports, such as running and cycling.
The goal of this feature is for you to get more reliable health metric readings and insights based on your unique health and fitness levels. There are certain conditions to know if the Athlete Mode feature is for you. Check out our "RENPHO Body Fat Scale: Normal Mode or Athlete Mode, Which Is Right for You?"  article to help you determine if you meet the criteria. 
But don't worry if you don't meet the requirements. You're not missing out on anything even if you don't turn on this feature because the RENPHO scales encompass a wide spectrum of lifestyle and fitness levels.  
How to Turn On/Off Athlete Mode?
If you feel that you meet the criteria and want to experience the Athlete Mode's differentiating factor, then it's time to give it a try. Remember that you can turn it off anytime you want on the app. 
Follow these steps to power on or off the Athlete Mode feature of your scale:  
1. Download the RENPHO Health App for free and create an account. 
When creating your RENPHO Health app account for the first time — where you will be asked to input your user profile information, such as your name, birthday, and height– you will see the Athlete Mode option. Select it and you will be directed to a page to enable the feature.
2. If you already have an existing account and you would like to turn on or off the Athlete Mode function, here are the steps:
a. Open your RENPHO Health App.
b. Go to My Account. Look for and tap the section that displays your name, email, and profile picture. This is located above the  "FAQ," "Help," "Add A Member," and "Settings" options. 
c. Once you click this section, you will be directed to your profile page and the Athlete Mode option. Click Athlete Mode.
d. Simply toggle the Athlete Mode switch to turn it on or off based on your needs and preferences.
e. Go back to the profile page and tap "Confirm" to save the new setting.
That's it! Follow these instructions to manage Athlete Mode and customize your experience today! 
Why is Athlete Mode Necessary in a Body Fat Scale?
Before we answer this question, let's revisit first how the RENPHO Smart Scales work. 
Our smart scale models use bioelectrical impedance analysis (BIA) to send a low electrical current up one foot from one sensor and travel back down to the sensor beneath the other foot. The scale tracks the amount of resistance to measure your body composition. 
Unlike a basic scale, our smart body fat scale generally provides insights on 13 body composition measurements. These health metrics include body fat percentage, muscle mass, skeletal mass, body water percentage, basal metabolic rate, body mass index, and fat-free body weight. 
Through these body composition indexes, you're empowered to go beyond weight loss tracking. Regularly monitoring these body composition measurements and seeing improvements over time can provide a significant motivational boost and encourage you to stay committed to your training and healthy lifestyle.
Now, to answer the question: Athlete Mode is necessary because it was found that body fat estimation using BIA can overestimate the body fat percentage of adult athletes. The physiological variations of athletes are said to account for the difference in body composition compared to the average person with a moderately active lifestyle. Such variations include higher bone density and hydration levels in athletes and contribute to the need for a specialized mode like Athlete Mode.  
How Does Athlete Mode Work?
To get the most accurate measurement results, adult users should turn on Athlete Mode on the RENPHO Health App platform. During measurement with the Athlete Mode on, the scale will measure the amount of resistance for athletes as its tailored approach to body composition analysis.
What is the Body Composition of Athletes? 
In general, athletes are required to maintain certain body composition levels to help them improve their performance. According to the National Strength and Conditioning Association, some sports require athletes to be large in stature and mass while not so much for other fields.  
Naturally, compared to average individuals, athletes will have different targets in terms of their body composition metrics to meet the demands of their respective sports. The idea behind Athlete Mode basically follows the same principle, taking into consideration the needs of those who engage in an intense and frequent training program for a particular fitness goal. 
This way, it accommodates your specific needs and characteristics. Such capability ensures that your progress tracking, goal setting, and performance optimization efforts are based on reliable data that accounts for your unique physiological variations resulting from your regular and intense physical activity.
You might also need to set up some fitness targets completely different from the average users if you feel that you fall under this category.  
To learn more about body composition, check out our blog titled "What is Body Composition?"
What are the Benefits of Using Athlete Mode
Via the app, smart scales offer this mode to enable you to:
Customize your settings:

The customization ensures that the readings are tailored to your unique physical characteristics and physical activity.
Know the effectiveness of your training routines:

This functionality allows regular tracking of body composition measurements to give you valuable insights into the effectiveness of your training regimen and overall progress.
Set goals:

List goals that are based on your athletic condition and performance level. It provides a more accurate baseline for determining your body composition metrics.
Optimize your training:

Track your progress and make adjustments in terms of training intensity, nutrition, or recovery to optimize your performance and reach specific fitness goals. 
Be More Motivated and Accountable:

Setting specific goals and tracking your progress is essential for staying motivated and accountable to your fitness journey. Athlete Mode enables you to establish performance-based goals that align with your athletic aspirations. 
It's worth remembering that while Athlete Mode is designed for specific individuals, all RENPHO Smart Scales provide valuable features and insights for users of all fitness levels and goals.
Final Thoughts
Athlete Mode provides additional customization and accuracy for individuals engaged in regular exercise or endurance sports. By utilizing this feature, you can better track your progress, set appropriate goals, and optimize your training regimen. 
If you are still wondering whether or not you are considered an athlete, don't worry too much about it. There is not an exact moment where you are - or are not - an athlete. Some people will get a slight underestimation on Athlete Mode and a slight overestimation on standard adult mode, falling in a gray area.
In which case, the most important factor to look for in the RENPHO Bluetooth Smart Scales is when you are given consistent readings over a period of time. Sticking with the same assessment system will likely yield a better overall picture of a person's health status. Relative changes in value are more meaningful than the absolute value of a single measurement.
---