4 Surprising Benefits of Jumping Rope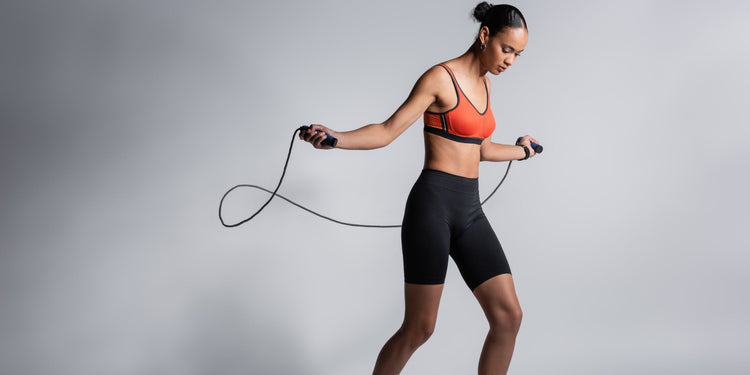 Stay tuned to our latest news
Jumping rope, or skipping, is a great activity that many people enjoy. From a classic and popular childhood activity, it has evolved into a popular exercise tool for fitness enthusiasts today — and this comes as no surprise. 
Jumping rope is a highly effective full-body aerobic exercise that helps improve cardiovascular health and enhances your overall fitness level, endurance, and stamina.  
The benefits of jump rope are undoubtedly significant. It targets the legs, glutes, core, shoulders, and arms, helping to develop strength, power, and coordination. When it comes to weight loss and calorie burning, this high-intensity physical activity can help shed some extra pounds and burn those excess calories when combined with a balanced diet and regular exercise.
While most of us are familiar with the advantages of skipping rope, did you know that it has several interesting benefits as well? Read on to learn more about its benefits that you may not be aware of.  
What is Skipping Rope?
Before delving into the 4 surprising benefits of rope jumping, let's first revisit the basics: what is a jump rope?  
Traditionally, a jump rope consists of a long, thin rope with handles on each end. The rope is typically made of durable materials such as nylon or PVC. The length of the rope can be adjusted to suit the height of the individual using it.
Jumping rope is a form of exercise that involves a person jumping over a rope rotating around the body. This activity is accessible and affordable for people of all ages and varying levels of fitness.
To perform jump rope exercises, one holds the handles of the rope in each hand, positioning them at the sides with the rope behind the body. As the rope rotates, the individual jumps over it with both feet close together and knees slightly bent to prevent injuries. The goal is to clear the rope with each jump, continuously repeating the motion in a rhythmic pattern.
Jump rope is a versatile activity that can be performed alone or in groups, both indoors and outdoors. It is commonly used in fitness training, sports conditioning, and as a warm-up or cardio component in various exercise programs.
When it comes to intensity and style, jump rope exercises can vary. There are various jump rope workouts and routines that incorporate different jumps, patterns, and timings to create an engaging and challenging exercise session.
As for sizing the length of your rope correctly, head to our "How Long Should Your Skipping Rope Length Be?" article.
Are Jumping Ropes Effective? 
Whether you're using it for recreation or incorporating it into a structured fitness routine, jump rope provides an enjoyable and efficient method to enhance your physical fitness, coordination, and overall well-being. This makes jumping rope good for you.  
However, in addition to these well-known advantages, there are several unexpected benefits that you might not have heard of before. 
#1: Improve Your Running
Running is a fundamental exercise for athletes and fitness enthusiasts alike. But will jumping rope improve your running? 
Apparently so if you make it a part of your warm-up routine, according to this research. The study finds that jumping rope 2-4 times per week for 10 weeks before an endurance-running training can improve a 3-kilometer time-trial performance as well as your jumping ability, arch stiffness, and reactive strength index.  
By engaging in regular rope jumping sessions, you can elevate your stamina, reduce fatigue, and achieve new milestones in your running journey.
#2: Increase Vertical Jump
If you're an athlete involved in sports like basketball, volleyball, or track and field, increasing your vertical jump is crucial. The repetitive jumping motion of a jump rope is known to improve your coordination and increase your calf muscles. This and more allow you to leap higher and excel in sports that demand explosive jumping ability. During your daily exercise, one of the recommendations is to jump rope for 30 seconds to experience significant results. 
#3: Enhance Your Cognitive Performance
As a form of cardio workout, jump rope has a host of physical and health benefits. This we know for sure. However, one of the questions being asked frequently is this: does  jumping rope make you smarter? 

What is sure is that jumping rope has an effect on your brain. A study says that the rhythmic pattern and coordination required in rope jumping can enhance your cognitive performance and influence your memory, attention, and emotion. 
Furthermore, according to the British Rope Skipping Association, rope jumping promotes the release of endorphin, dopamine, and serotonin, enhancing mood and reducing stress, which are good for your overall mental health.
#4: Reduce Belly Fat
Belly fat can be a stubborn challenge for many individuals striving to achieve a toned physique. Rope jumping can play a significant role in reducing belly fat and improving body composition. It is a highly effective calorie-burning exercise that engages multiple muscle groups, increases the heart rate, and promotes fat burning. 
By incorporating regular rope jumping sessions into your fitness routine, you can accelerate the process of not only shedding excess belly fat but also sculpting a leaner abdomen.
What is a Smart Jump Rope?
With its popularity not going anytime soon, jump rope has evolved over the years and continues to be improved. The advent of technology has led to the birth of a smart jump rope. 
A smart jump rope is basically a modern take on the traditional jump rope. What makes it "smart" is that it is installed with advanced sensors and technology to provide real-time feedback on your workout, thereby ensuring that you reach your fitness target more efficiently.   
There are various types of smart jump ropes to specifically meet your preferences and fitness goals. Some of these include weighted jump rope, speed rope, and adjustable rope. 
What Does a Smart Jump Rope Do?
Unlike conventional jump ropes, these smart versions are also equipped with handles that not only house sensors but also offer Bluetooth connectivity. The sensors are designed to track your jumps and provide insights into your workout performance, while the Bluetooth-enabled feature allows you to connect to a mobile app. 
The connectivity gives you the option to save your data and gain access to the app's other high-tech additional features for a  more efficient tracking of trends and fitness progress.
Conclusion
Rope jumping offers a range of health and physical benefits that extend beyond conventional cardio exercises. The advantages of improved running performance, increased vertical jump, cognitive enhancement, and reduced belly fat make it a valuable addition to any fitness regimen. 
By incorporating rope jumping into your routine, you can unleash your potential, both physically and mentally, and achieve remarkable results. For a level-up exercise, grab a smart jump rope, lace up your sneakers, and start jumping your way to a healthier, stronger, and happier you!
Thinking of investing in a smart jump rope tool for your fitness goals? Learn how the
RENPHO Smart Jump Rope
can take your routine to new heights.
---