What Does RENPHO Body Scale Measure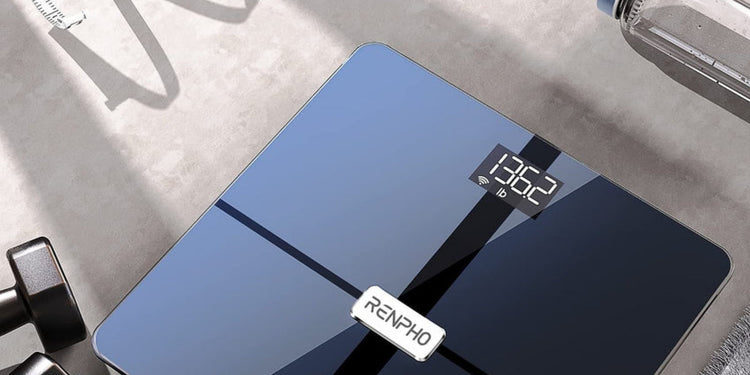 Stay tuned to our latest news
Do you ever wonder what lies beneath the surface of your body? Discover the incredible capabilities of the RENPHO Elis 1 Smart Body Scale. Explore well beyond mere weight measurement and delve into 13 essential body composition metrics that can contribute to a healthier version of yourself. 
So, let's dive deep into the RENPHO Elis 1 Smart Body Scale and discover the 13 body composition metrics it offers to help you on your journey to a healthier you. 
Body Weight - More Than Just a Number
We'll start with the most apparent metric—body weight. Stepping onto the Elis 1 Smart Body Scale will give you an accurate reading of your weight. But remember, weight is just a number; it doesn't tell the whole story. Our bodies are composed of various components, and this smart scale helps you monitor them to prevent the risk of weight-related diseases, such as heart disease. According to Medical News Today, each person's ideal weight varies as there are many factors to consider such as age, health, and more. 
BMI - A Window into Your Health
The RENPHO Elis 1 Smart Body Scale calculates your body mass index (BMI) based on your weight and height and tells you if your BMI falls within the healthy weight range, which is from 18.5 to 24.9, reports the Center for Disease Control and Prevention.
Study shows that age is one of the significant factors affecting BMI. BMI increases with age and declines after you reach the age of 60. Moreover, individuals between 40 and 60 years old are more susceptible to obesity.
The National Heart, Lung, and Blood Institute highlights that BMI is a valuable indicator for determining if an individual is overweight or underweight. Keeping track of your BMI helps you monitor your well-being and make informed decisions to maintain a healthy weight. 
Body Fat Percentage - Delve into the Depths
Ever wondered how much of your body is made up of fat? The Elis 1 measures your body fat percentage, providing a glimpse into your overall body composition. This metric is essential because excess body fat can increase the risk of various health conditions, such as obesity, diabetes, and cardiovascular disease, Harvard T.H. Chan School of Public Health reported.
Tracking your body fat percentage allows you to set goals for reducing it and improving your overall health. The World Health Organization recommends limiting your intake of sugars and unsaturated fats and increasing your consumption of fruits and vegetables such as whole grains and nuts.
If you are a fitness enthusiast, knowing your body fat helps you decide whether to reduce your overall fat mass or increase your muscle mass.
Fat-free Body Weight - Beyond the Fat
Fat-free body weight is the weight of your body, excluding fat. The RENPHO scale calculates this metric to help you understand your body composition beyond just body fat. Whether you're a gym buff or health-conscious, this metric gives you a clearer picture of your progress and helps you focus on your fitness goals.
Subcutaneous Fat - The Surface Level Fat
What is subcutaneous fat? According to Harvard Health Publishing, it is the kind of fat that lies just beneath the skin and is mainly found around the belly, hips, thighs, and butt. It cushions your muscles and bones against bumps and falls. However, too much subcutaneous fat can cause serious health diseases like diabetes, stroke, and heart disease, the Cleveland Clinic reports.
The Elis 1 measures this metric, allowing you to track changes in your subcutaneous fat over time. It helps you understand how your body composition is changing and guides you in making informed decisions to reduce excess fat, thus minimizing possible health risks, as stated by Health Direct.
Visceral Fat - A Hidden Health Risk
Unlike subcutaneous fat, visceral fat (aka hidden fat) resides deep within your abdominal cavity, surrounding vital organs. Excessive amounts of it can increase the risk of various health conditions such as obesity, high blood pressure, diabetes, and heart disease.
Monitoring your visceral fat levels through the Elis 1 can motivate you to make healthier lifestyle choices and reduce this hidden health risk.
WebMD suggests exercising for 30 minutes a day– it can be as simple as walking or running– to reduce excess visceral fat. Additionally, eating a healthy diet, including lean proteins, fruits, and vegetables are important.
Body Water Percentage - Stay Hydrated, Stay Healthy
Water is vital for our bodies to function properly. The Elis 1 measures your body water percentage, which reflects the amount of water present in your body. Staying hydrated is crucial for maintaining optimal health, and this metric helps you keep an eye on your hydration levels. Dehydration is something you don't want to experience as it can lead to headache, fatigue, and worse, heatstroke, according to the Cleveland Clinic.
Skeletal Muscle - Strength from Within
Muscles are our body's powerhouses, supporting our movement and overall strength. Skeletal muscles are connected to our bones and limbs to help with mobility and daily functions, such as maintaining body posture, chewing, and swallowing, as reported by the Cleveland Clinic.
The Elis 1 provides insights into your skeletal muscle mass. Knowing the amount of muscle tissue present in your body is essential if you are trying to gain muscle and build a better physique.
Muscle Mass - A Measure of Strength
Muscle mass is the total weight of the muscles in your body, including the skeletal muscle, smooth muscle, and cardiac muscle. Increased muscle mass helps you burn more calories and lift heavy objects. On the other hand, loss of muscle mass may cause balance and strength issues, according to Emily Abbate, a Certified Fitness Trainer.
The Elis 1 measures this metric, allowing you to keep track of your progress in building and maintaining muscle. By monitoring your muscle mass, you can adjust your workout routine and diet to achieve your fitness and health goals.
Bone Mass - The Foundation of Your Body
Bones are the solid framework that supports our bodies. Bone mass refers to the amount of minerals, like calcium and phosphorous, found in a certain amount of bone, as explained by the National Cancer Institute. Essentially, it tells us how healthy and strong our bones are.
The Elis 1 evaluates your bone mass, providing valuable information about your bones' density and strength. Keeping track of your bone mass is especially important as we age, as it helps detect any potential issues like osteoporosis and allows you to take proactive measures to maintain bone health.
Protein - Fuel for Growth and Repair
Protein is the building block of our bodies, involved in countless functions such as muscle and bone growth, repair, and immune system support. It is a macronutrient that is often found in fish, meat, and dairy products like cheese and yogurt, according to the British Nutrition Foundation.
The Elis 1 measures your protein levels, helping you ensure you're getting adequate protein intake to support your overall health and well-being.
BMR - The Calorie Burning Engine
Basal Metabolic Rate (BMR) refers to the number of calories your body burns at rest over 24 hours. Knowing your BMR is really useful if you want to gain weight, lose weight, or keep your current weight steady. This can help you figure out how many calories you need from your daily meals to meet your energy needs, explains Alena Hall, a Registered Yoga Teacher.
The Elis 1 calculates your BMR, providing you with insights into your body's energy needs. Understanding your BMR can help you create a more accurate and personalized approach to managing your weight and maintaining a healthy lifestyle.
Metabolic Age - Are You Aging Gracefully?
Your metabolic age indicates how well your body functions in comparison to the average BMR for people of the same chronological age. Simply put, if your metabolic age matches your actual age, it means that your metabolism is similar to others in your age range, according to Healthline. Additionally, having a metabolic age lower than your chronological age is considered a positive indicator of good health.
The Elis 1 calculates your metabolic age based on various factors such as body composition, weight, and activity level. You can make lifestyle adjustments to promote healthy aging and vitality by monitoring your metabolic age.
Conclusion
The RENPHO Elis 1 Smart Body Scale is a powerful tool that goes beyond just measuring your weight. It provides a comprehensive understanding of your body composition, helping you make informed decisions about your health and well-being. By tracking metrics such as body fat percentage, skeletal muscle mass, and BMR, you can tailor your fitness and nutrition goals to achieve optimal results. So, step onto the Elis 1, and unlock the secrets of your body, one metric at a time.
---