6 Things You Need to Know about Renpho Massage Guns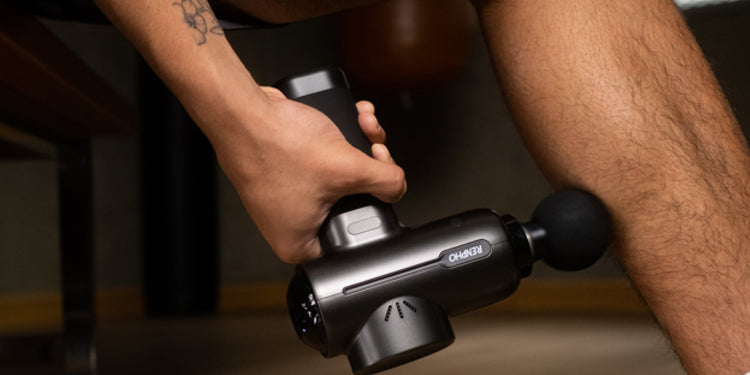 Stay tuned to our latest news
Whether you are an athlete, a fitness enthusiast, or someone looking for relief from your post-workout sore muscles, a massage gun may be just what you need. A powerful massage gun is made to deliver the benefits of a percussive therapy to target tight muscles, provide relaxation, help improve range of motion and promote post-workout recovery, and many more. 
Among the many brands available in the market today, Renpho is one of the trusted names for its high-quality massage guns. 
Are you thinking of investing in a Renpho Massage Gun to add to your fitness routine? To help you decide, we've collated some of the basics about the Renpho Massage Guns, including their benefits, features, and how to use them for maximum results.
Benefits of Massage Guns
Massage guns in general are often referred to as percussive therapy devices or percussion massagers. These handheld massagers are made to mimic the motions and techniques used in traditional percussive therapy performed by a massage therapist, but with the added convenience and accessibility of a portable device.
Usually, they are designed with a motor, which generates the rapid and repetitive pressure or vibrations. They also come with interchangeable massage heads that can be attached to the device. A variety of massage gun attachments include ball heads and flat heads. 
The attachment heads vary in shape, size, and texture to target different muscle groups and provide varying and customized massage sensations.
Given the principle behind its design, massage guns are made to deliver many benefits, including: 
Increased Mobility
According to UCLA Health, a percussive massage may help to relieve the muscle tightness and aches you feel as a result of a thickened fascia brought about by repetitive movement, trauma, and other factors. It works to make the fascia, the connective tissue that surrounds your body, "more pliable" for easier and more efficient movement.   
DOMS Prevention
A percussive massage may also prevent or reduce the likelihood of you experiencing delayed onset muscle soreness (DOMS). Triggered by micro-tears, DOMS is the muscle soreness or muscle pain you feel 24 to 72 hours after your particularly high-intensity workout.   
Citing research, the same UCLA Health article states that this form of massage technique helps stimulate blood flow to reduce DOMS-related inflammation and pain for faster healing.  
Relaxation and Stress Reduction
Various massage techniques, including a deep tissue massage, are designed to promote body relaxation and help decrease your stress levels. A wide variety of massage guns are also developed to deliver the same benefits by helping soothe the muscle, release muscle tension, and contribute to your overall sense of well-being.
For more benefits, check out our blog here. 
The Basics: All About Renpho Massage Guns 
The Renpho Massage Guns are packed with innovative features to enhance their effectiveness and usability. Understanding these features will ensure that you can make the most out of your device. 
Here are some notable features of our massage gun models that you need to know:  
Multiple Massage Heads
A Renpho massage gun comes with multiple interchangeable massage attachments, such as a flat head attachment, each of which is designed to target specific muscle groups. These heads allow you to customize your massage experience.
It is recommended that you use a dedicated massage gun head, especially for sensitive muscles, for best results. To know the right attachment heads for your muscle groups, read "Your Guide to Massage Gun Heads for Muscle Recovery."
Adjustable Speed and Intensity Settings
With adjustable intensity and speed settings, the Renpho Massage Guns offer versatility to cater to your desired level of pressure. You can start with a lower setting for a gentle massage and gradually increase the intensity and speed level as needed for deeper penetration and muscle relief.
Quiet Operation
Our handheld massager is designed to operate quietly, ensuring a peaceful massage experience without causing disturbance or discomfort to others nearby. The quiet motor allows you to enjoy your massage in any setting, whether at home, the gym, or the office.
Long Battery Life
The Renpho devices offer long-lasting batteries that provide extended use between charges. Depending on the model, you can expect several hours of continuous use on a single charge. This makes Renpho massage guns convenient for travel or when you don't have immediate access to a power source. 
Keep in mind though that the battery life will still depend on frequency of use. 
Ergonomic Design and Portability
Our massage gun line is ergonomically designed to provide a comfortable grip during use. The handles are typically made with materials that ensure a secure hold, even when applying pressure to hard-to-reach areas. This design feature allows for precise targeting and reduces hand fatigue during longer massage sessions.
Additionally, if you're always on the go, you can also take the massage guns with you. The mini massage guns, for example, added extra convenience when you're traveling. They might be small but they are just as powerful as their larger counterparts. 
Safety Features
The safety features of the Renpho Massage Guns are placed to protect both the user and the device. These include automatic shut-off after a certain period of continuous use to prevent overheating and overuse.
Using Renpho Massage Guns Effectively
To maximize the benefits of Renpho massage guns, it's essential to use them correctly. Here are some tips for using the devices more  effectively:
Warm-up: Before using the massage gun, it's recommended to warm up your muscles through light exercise or stretching. This helps prepare the muscles for the massage and enhances the overall effectiveness.
Targeted Areas: Identify the specific areas of your body that require attention and focus on those areas with the massage gun. Renpho massage guns allow you to target different muscle groups by using the appropriate massage head and adjusting the speed and intensity settings accordingly.
Proper Technique: Hold the massage gun firmly but not too tightly against the targeted area. Allow the massage head to gently glide over the muscles, applying consistent pressure. Avoid applying excessive pressure or staying in one spot for too long, as it may cause discomfort or bruising.
Gradual Pressure: Start with a lower speed and intensity setting, especially if you are new to using massage guns. The lowest setting allows you to be familiarized with the device. Gradually increase the pressure as your muscles become accustomed to the sensation. Listen to your body and adjust the settings according to your comfort level.
Duration and Frequency: It's important not to overuse the device or exceed the recommended time frame to prevent any potential adverse effects.
Hydration and Rest: Drink plenty of water before and after using the massage gun to stay hydrated. Adequate hydration supports muscle recovery and helps flush out toxins. Additionally, ensure you get enough rest and sleep to allow your body to heal and recharge.
Conclusion 
With customizable features, portability, and a user-friendly design, massage guns offer a convenient solution for individuals seeking a targeted and personalized massage experience, especially after a tough workout. By following proper techniques, maintaining the device, and using it consistently, you can enjoy the full benefits of a massage gun, which may include improved blood circulation to the targeted muscle group.  
It's always best to consult with your health provider before using the device.  
Are you convinced yet about investing in a Renpho massage gun? Explore our
Massage Gun collection
today!
---