Stationary Bikes & Weight Loss: How to Lose Weight on a Stationary Bike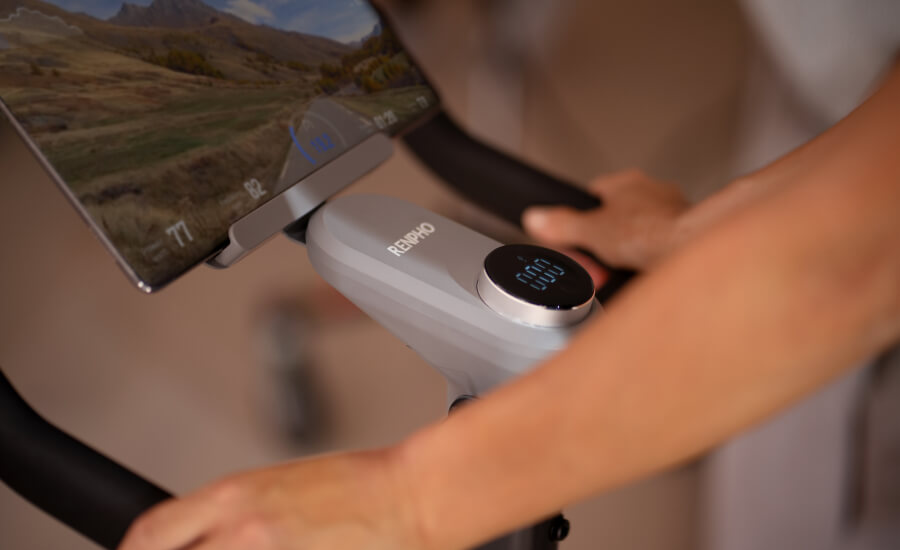 Stay tuned to our latest news
Stationary exercise bikes are an excellent way to lose weight, even if other methods haven't worked as well as you might have hoped.

Let's face it, you've tried running, jogging, and almost every other exercise to burn calories, but for whatever reason, the scale refuses to budge. Be it injury or diet, there are several reasons why the weight won't come off.

Luckily, there are low impact, high intensity bike workouts available that can help make the process a lot more enjoyable.
How to Lose Weight
The first thing to be aware of is that you cannot spot reduce the fat on your body, but you can tighten and tone the muscles underneath.
Just remember that obtaining a healthy, fit body isn't a sprint: it's a marathon. That's because losing weight takes time, and no matter how hard you try, it's impossible to turn into an Olympic athlete overnight.
Consistency is key, which is why committing to an exercise routine is the best way to lose weight.
How an Exercise Bike Can Help You Lose Weight
Using an indoor exercise bike to lose weight is just as effective as running, if not more. Why?

Running can place a tremendous amount of stress on your joints and ligaments, which can make running, especially the elderly or those with underlying health issues, painful and not much fun at all.

On the other hand, exercise bikes are far less impactful on your body, and what's more, you'll burn more calories depending on the resistance setting you choose.

This form of exercise also offers several other benefits, such as strengthening and toning leg muscles, improving cardio, lowering blood pressure and so much more.

There's also no need to worry about leg pain as it is friendlier on the joints compared to running. In fact, cycling has one of the lowest risks of injury for a cardio workout.

And the more you peddle, the more exercise benefits you'll achieve.
Other Benefits of Riding an Exercise Bike
The intensity of your workout determines how many calories you burn. An individual weighing 150 pounds who cycles moderately for around 30 minutes can burn up to 260 calories.
You can burn even more calories as you cycle by keeping your mind occupied during endurance workouts with your favorite TV sitcom or exercise course.
If longer rides aren't your style, interval training can be an efficient way to shed those pounds since it burns more calories in a shorter amount of time compared to a slower paced workout.
It Activates Your Metabolism to Work Better
Interval training on an exercise bike can activate your metabolism, which is great for losing weight.
And although you can perform high intensity sprints and other aerobic activities to achieve the same effect, activities such as sprinting carry a higher risk of injury.
When practiced alongside a low-calorie and low-sugar diet featuring whole grains, fruits, and lean meat, riding an exercise bike at high intensity can help you slim down and tone up in no time at all.
It Mitigates Stress
Aside from the question of how to lose weight on a stationary bike, one may ask if it also reduces stress. Fortunately, the answer is yes because one of the benefits you get when working out include the body's secretion of the endorphin hormone that mitigates stress while also helping you lose fat. It's a win-win situation!
Safety
Potholes, aggressive drivers and the dark are no longer a factor when cycling indoors. It's also easier on the knees and joints so there's less fear of aggravating old injuries.
Offers Low Impact Exercise
Cycling is more merciful on your legs as it offers low impact exercise and minimizes the risk of injury.
Strengthens Your Lower Back
Aside from improved cardio, your lower back muscles are also targeted when you cycle. For more details on how cycling targets your muscles, please read our related blog "What Are the Top Benefits of Riding a Stationary Exercise Bike?"
Puts You in a Good Mood
Cycling can improve your mood and well-being by allowing the body to release a natural mood booster called anandamide. When this happens, it alters your emotional and cognitive behavior and gives you a natural high and quick burst of euphoria.
Introducing the RENPHO AI Smart Bike
Our solution to getting a rewarding workout from the safety and comfort of home is the RENPHO AI Smart Bike. This advanced workout machine combines assistive AI to your daily cardio pump; below are several additional benefits you'll be interested in hearing about.
Workouts Automatically Adjust to Your Fitness Level Via FTP Technology
The Functional Threshold Power or FTP is custom-tailored based on your performance data and allows the bike to automatically adjust resistance to match your fitness level, power and goals.
70+ Fitness Classes
With over 70 unique classes and 4 courses available, you'll never have a problem finding a specific class for your workout. That's because there are many varieties to choose from within the subscription-free AI Gym companion app which is also supported with new courses and features regularly.
The Technology Behind the AI Smart Bike
The RENPHO AI Smart Bike is built with the technology needed to assist you in your fitness goals. It is engineered to be compact for your home, yet robust enough to endure those long cycling sessions. It was developed with connectivity in mind to help you track your progress using an Apple Watch, Zwift, and Google Fit.
When connected, the AI Gym app is what breathes life into the AI Smart Bike as it recognizes and studies your cycling progress and provides the necessary changes to your daily workout to achieve maximum workout efficiency.
Smart Motor Damping
This technology provides users with a smooth and quiet riding experience that automatically adjusts resistance based on your workout needs.
Freewheel Pedal Freedom
If you miss biking outdoors, this feature allows you to coast for that uninterrupted biking experience, something that many stationary exercise bikes simply cannot offer.
Cycling KPI Monitoring
As the bike monitors your performance based on cadence and power, the AI Gym app generates weekly reports to help you keep track of your progress and monitor changes to help you take the necessary actions needed for an efficient workout.
Virtual Trails
Miss the outdoors? We do too, but with the pandemic still lingering, this could be the next best thing to going for a ride around the neighborhood. Using our AI Gym app, cycling with your friends is no longer a distant memory! You can enjoy a scenic ride around the world's most beautiful trails or get competitive by racing against others!
Get Connected and Race Others
The AI Gym app is developed to contain all the nifty features to make the most out of the RENPHO AI Smart Bike. You may go to the Discovery section of your app to race friends or other people for the top spot on well-known trails such The Baggersee in Germany or via the inclined roads of the streets of Montparnasse in France.
AI Gym App
The AI Gym app is available for both iOS and Android users, and it is full of features just waiting to be unleashed, including a personal trainer for each cycling course, virtual racing competitions online, fitness data reports, Google Fit, Zwift synching, and much more!
The app also makes it easy to maximize the value of your bike whether you're a beginner or a veteran cyclist.
Items to Add to Your Workout
Complete your home gym with these RENPHO products to complement your overall workout.
Smart Scale
The RENPHO app-integrated Smart Body Fat Scale can help you on your weight loss journey by keeping track of your weight, BMI and much more after your bike session.
Smart Food Scale
Fueling the body is important and knowing the right amount of the right kind of food that goes into your body is crucial. The Smart Food Scale can keep track of all your meals and record its nutritional information via the Gennec app.
Smart Body Tape Measure
Accompanying the smart scale is a small but dependable Smart Body Tape Measure. It records your measurement in the RENPHO app and works in tandem with the smart scale for data recording.
Resistance Bands
Use your body weight to build muscle and burn fat with our Bodyweight and Resistance Band Training Kit. The durable anti-slip resistance straps can be quickly fastened to a door or beam.
Smart Jump Rope
This app connected tool is the perfect companion to your daily workout routine. The Smart Jump Rope can record your progress and inform you of your skip time and calories burned every day.
Get the Best AI Smart Bike at RENPHO!
Ready to lose weight and improve your overall well-being? Supercharge your workouts with the many benefits of RENPHO's AI Smart Bike. Get additional details about our Stationary Home Exercise Bike now, or head on over and place your order at the RENPHO online store to get your AI Smart Bike!
---